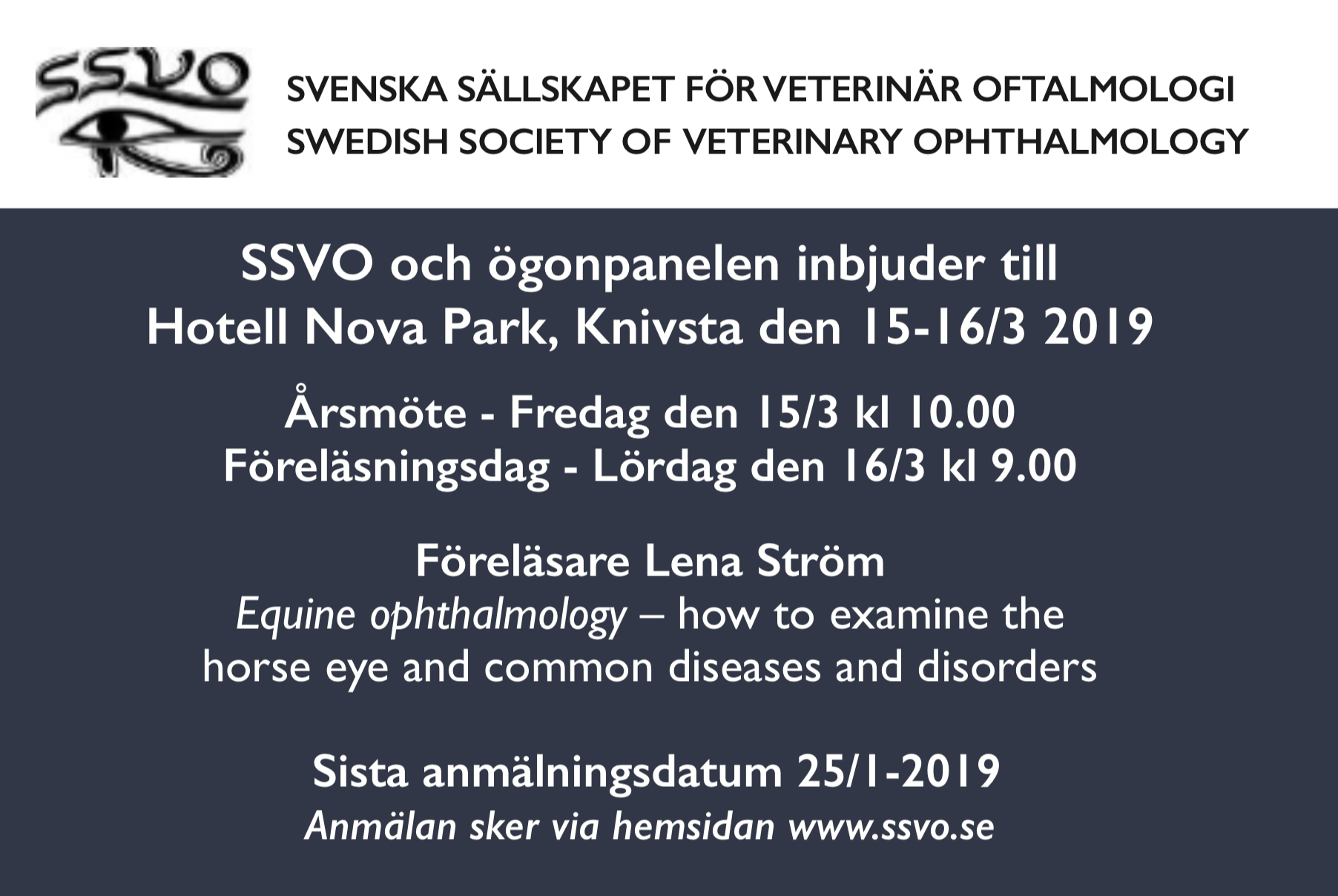 SSVO:s årsmöte hålls i år på Nova Park i Knivsta. Dagen efter mötet håller Lena Ström en föreläsning om oftalmologi på häst (se nedan). Årsmötet är endast för SSVO-medlemmar, men alla är välkomna att anmäla sig till föreläsningsdagen 16:e mars!
Allmän information
Datum och plats: 15-16 mars 2019, Knivsta
Årsmöte (15:e mars):
Föreläsning (16:e mars):
Lena Ström: Equine ophthalmology – how to examine the horse eye and common diseases and disorders
Anmälan
Anmälan görs via mail till konferens@novapark.com. Vid frågor eller funderingar så går det att ringa på telefon 018-27 80 27.
OBS! Läs bokningsreglerna innan anmälan!
Vänligen uppge för och efternamn samt vilken/vilka dagar och eventuell logi ni vill boka.
Har ni någon kostavvikelse så måste den anges – om ni inte har angett detta innan och ändrar mat på plats tillkommer en extra måltidskostnad för den.
Sista anmälningsdatum är 25 januari
The 2019 annual meeting of SSVO will be held on Nova Park in Knivsta. The day after the meeting Lena Ström will be giving a lecture on equine ophthalmology (see below). The annual meeting is for SSVO-members only, but the lecture is open for everyone!
Information
Date and location: March 15-16 March 2019, Knivsta
Lecture (16 March):
Lena Ström: Equine ophthalmology – how to examine the horse eye and common diseases and disorders
Registration
Send your registration to konferens@novapark.com. If you have any questions, please call 018-27 80 27.
Terms of registration (in swedish)
Please provide:
First and last name
Date
Any accommodation during your stay
Dietary restrictions – must be provided beforehand (otherwise you will be charged an extra fee)
Last date for registration: 25:th January